Geiger & Peters is a Steel Fabricator in Indianapolis, IN, incorporated in 1905.
We provide Steel Fabrication and Installation services for Division 05 Structural Steel and Miscellaneous Metals.
Other capabilities and services include Conceptual Budgeting Assistance, Design-Build Delivery, Design-Assist Delivery and Connection Design and Engineering services.
EQUIPMENT LIST
---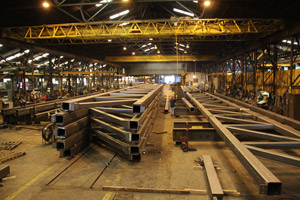 Main Plant
Excellent production tracking. Fabtrol production software scans each operation and each piece of steel is bar code tracked.
Marvel band saw for miter cuts with solid table for short pieces.
Anglemaster 2-axis punch with shear
Burning Bed with plasma cutting and multi-torch oxyfuel capability.
Pacific Plate shear
6 wheel shot blaster
Beam profile machine
20 ton capacity with 2 cranes (15 ton in front bay)
23 ft height x 78 ft width in Main Bay
Side press cambering machine
Environmental permit for spray painting at 2.5 lbs/gal. VOC content (epoxy paint) with paint thickness testing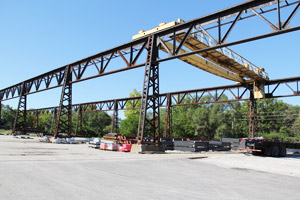 Outside Crane Bays
Crane Capacity 10 ton in inventory bay 20 ton in loading bay
Inventory Wide Flange, Channel, Angle, Plate, HSS, Tube, Pipe
Incoming steel via truck/rail.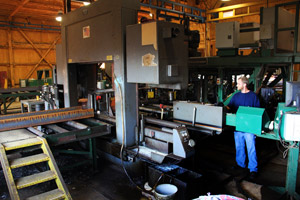 Drill Building
3-axis programmable CNC drill with band saw for end-cuts and walking-beam table on entry end
3-axis CNC-controlled punch press with band saw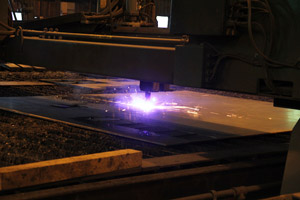 Hot Shot Bay
Excellent high-strength welding capabilities
Bertsch Press Brake for bending and press-forming
Peddinghaus 3-head plate duplicator punch
4 ton capacity with 2 cranes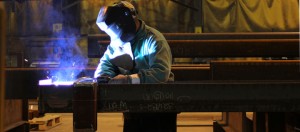 Welding
Welding of carbon and structural steels
AWS Certified Weld Inspectors on staff
UT Testing
Die penetrant testing
Mag particle testing (for surface cracks)
Thirty 800-amp wire welders; .0625" wire in main bay; .045" wire in hot shot bay
Two stud welding guns
Expertise in weld preparation (beveling of heavy piece welds, preheat, postheat)